How Our Lives Went to the Dogs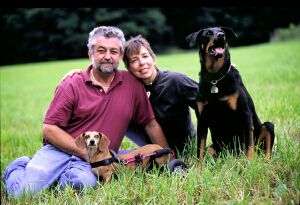 Ed and Leslie Grinnell have been living with dogs with disabilities for over 27 years. Our own dogs, together with the hundreds of disabled dogs whom we have personally measured and fitted in their carts each year, have been our inspiration. They have taught us how to meet the challenges of providing our disabled soul companions with the equipment and the care they need to lead a "dog's life".
Ed's revolutionary design, based on supporting the animal on its skeleton – on the pelvic floor in the rear, with an opening yoke over the shoulders – has won the accolades of veterinarians and canine physical rehabilitation practitioners worldwide. This design protects pets from some of the common side-effects created by canine carts – skin breakdown and urine burn from supporting pets on the soft tissue, and loss of core muscle tone caused by girth straps encircling the spine.
In the past 25 years, our business has grown by word-of-mouth, through online support groups (such as Dodgers List, Wheelie Pugs, and DM support groups), satisfied customers, and the recommendations of animal professionals. We've also been the grateful recipient of national media attention on the Associated Press Wire Service, CNN, WGBY, CBS-News WBZ , NPR and the Today Show. We have also been featured on CBS's Innovation Nation.
It all started with our blue Doberman, Buddha; she was one of those incredibly self-possessed beings who always took the attitude that eventually she would get her humans fully trained. For years, she had been Eddie's guard dog. In 1989 Buddha, at the age of 10, was being a Nanny dog to our young daughter and the group of toddlers who came to our home for family daycare when she lost the use of her rear legs due to spondylosis and disc disease. We were faced with the choice of a risky surgery, which we could not really afford, or euthanizing her. She was neither painful nor depressed, so euthanizing her was not an option. We decided to give her time to heal. We gave her anti-inflammatories and started researching wheelchairs. I became her servant, carrying her back end around in a sling, and doing massage therapy every night.
In the meantime, Eddie, dissatisfied with what was available commercially at that time, decided to build her a wheelchair that would restore her to decent quality of life. A mechanical engineer by trade, he analyzed the canine skeleton and designed a cart that would support Buddha on her pelvic floor with a yoke over her shoulders. This would give her spine the support it needed to heal.
That was in 1989; the cart was clunky by today's standards, but it allowed her to walk in the woods and fields again. This cart served her needs, and we all were rewarded several months later, when she began to walk on her own again. She taught us about the value of convalescent care and awed us with her ability to rehabilitate in her cart. After only a couple of months, her paralyzed legs started moving again, and shortly afterwards, she was able to stand and walk on her own without the cart.
Our vet was impressed with her recovery, and over the years referred people to us who needed wheelchairs for their disabled dogs. With each cart, Eddie refined the original design to make it lighter and easier to use. Finally, his own disabilities forced him to leave corporate life and he decided to devote himself to helping disabled animals. A feature article in the local newspaper produced a spate of orders and Eddie's Wheels was born in 1999.
Now the dogs really ruled our lives. Our first local customers taught us about all the different special needs that required accommodation. KD, the border collie, wore her cart with a pool noodle strapped on so she could go swimming in her cart. Voytek, the ancient dachshund, needed a four-wheeler. Shala, the pup rescued from the town dump with missing front legs, inspired the first front wheel cart. There were amputees who needed counterweighted carts, arthritic dogs who needed counterbalanced ones, and too many dogs with degenerative myelopathy who needed carts that could be upgraded to deal with their progressively worsening disabilities. Removable step-in saddles, variable axles, carts with detachable front training wheels for rehab, and full quad carts with head rests and tow handles were developed in response to requests from people who needed these tools to manage their beloved pets' disabilities.
Since the website went up in January 1999, we have sent carts all over the world including Australia, Dubai, Tanzania, Indoesia, Japan, Sri Lanka, South Africa, Israel, Bulgaria, Romania, Namibia, Greenland, Turkey, Ecuador, Samoa and Europe. Veterinarians, who once believed that carts don't work for big dogs, have seen how successfully our carts have met the needs of larger breeds. We show our work at animal rehab conferences, holistic vet conferences and have received the endorsements of leading vet hospitals and vet schools, including Tufts, NC State, University of Tennesse, Ole Miss. Michigan State, University of Minnesota, University of Georgia, Louisiana State University and Cornell.
In 2001, we adopted Daisy, a delightful 6 year old dachshund with four herniated discs, bladder and bowel incontinence, and a feisty indomitable spirit that made dogs cower as she chased them in her cart. We learned so much from watching her slowly rehabilitate over time, gradually regaining function of her legs so that she could use her cart as a walker, propelling herself as she climbed hills. Daisy was an active, healthy dog on wheels for 10 years – inspiring thousands who met her at veterinary conventions, schools and conferences – to rethink their preconceptions about disabled pets. She died of a stroke on a snowy day in January 2011 at the ripe old age of 16.
In 2004, we outgrew our business incubator and built a new shop in the village of Shelburne Falls. Our new space gave us room to continue to grow, as well as offering space for complementary alternative health care services such as healing touch, massage, acupuncture and chiropractic services by a variety of practitioners.
In June of 2006, we received a call from the NYC – ASPCA to help find a home for Sweet Pea, a disabled incontinent pitbull for whom we'd donated a cart several months earlier. What started out as foster care quickly turned into a full adoption, with her story featured on Animal Precinct. Sweet Pea's disabilities changed over time and she received all kinds of canine rehab and physical therapy. An injury to her lumbar spine inspired the latest innovation – a tiltable, variable angle saddle to compensate for her roached posture.
Willa and Webster came into our lives in January 2010 through a rescue group in southern California named Mutts'n Stuff. They specialized in hard to place adoptions, and certainly Willa and Webster have unique special needs: they were both born without forelimbs. We adopted them specifically because of this disability, as we were making so many front wheel carts. We felt that we needed some hands-on experience learning about the challenges of using front wheel carts. They have been a total delight to have in our family, and have become expert drivers of their wheelchairs. How nice for them to be able to climb hills, sniff, play and sit at will instead of creeping or hopping like kangaroos!
Five years ago, our daughter Chris, has taken over the design of each cart, having grown up in the business and apprenticed witih her dad. With over 2500 unique saddle designs, we have acquired a wealth of knowlege that is being passed on to the next generation. We are so grateful that she chose to join the family business.
Here at Eddie's Wheels, we truly live our life's work and mission. Our Motto: We test our products on Animals – speaks to our over 25 years of sharing our lives with disabled pets. We continue to take each order individually, with careful attention to detail, making sure the cart will serve each pet's level of disability. Our well-trained and experienced staff still design and build each cart by hand with the dog's name on it. We continue to be moved by the stories our customers tell us about their soul companions and feel privileged to be part of their lives.