Adjustable Clinic Quad for Giant Dog's Rehab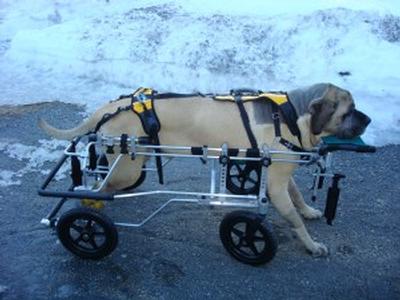 Tank used our adjustable clinic quad cart to rehab from ventral slot surgery
Bev Savoie, at New England Canine, an animal rehab center in East Longmeadow, MA referred Tank, a Giant Mastiff to us. Tank is a big lazy dog, who following ventral slot surgery failed to get up on his feet again. He spent an entire month at Tufts Veterinary Hospital, and finally was sent home with a pvc pipe frame with a sling. The owners took him for rehab but Tank didn't want to work out in the underwater treadmill. Bev sent them to us in desperation - perhaps we had a way to get Tank up and standing again so he'd find the confidence and strength to start walking again on his own.
Our adjustable clinic quad was designed for cases such as Tank. We have found that Giant breed dogs are really afraid of falling, and following traumatic events - such as FCE's or cervical surgery, they lack the confidence and drive to work at rehabilitation. This quad cart can be adjusted without any special tools to adjust to multiple dog sizes - from medium to extra large. We maxed out the height and length adjustments for Tank. The cart has a headrest - an option that is particularly helpful for cervical dogs. The tow handle allows the dog owner to set the pace, and reflexes then kick in so the dog walks to keep up with the pace.
Tank was not paralyzed following his surgery. He had been down for three months and was weak from lack of exercise, and his confidence and motivation were gone. After two weeks in the quad cart, he was standing on his own. After 4 weeks he was walking 40 steps on his own. And after 6 weeks, the owners returned the cart to us, as now Tank only needs assistance rising from a lying down position - something they do with the aid of the Helpemup Harness they purchased from us.
We were delighted both for Tank and his devoted owners.
Posted: to Eddie's News on Thu, Mar 31, 2011
Updated: Thu, Mar 31, 2011