Corgis with Degenerative Myelopathy love Eddie's Wheels carts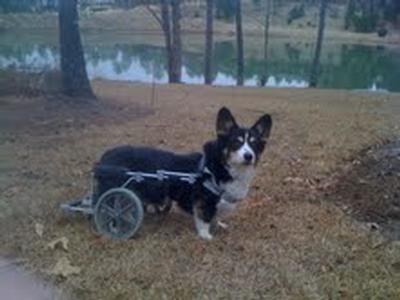 Corgi in a Wheelcart
To the Gang at Eddie's Wheels:
"We just love the cart and so does Redford. When we go for a walk now with our other two corgis Redford keeps up and is part of the team. He runs in the cart and is happy as can be. He also got into a bit of an altercation with a yellow lab which indicates he is back to his old self again.
You all did a great job with the cart and we can't thank you enough."
R. Evans
We get letters like this all the time from happy owners of corgis with degenerative myelopathy. These charming, but stubbornly independent little dogs are usually well into their middle age (10 or over) when the first telltale symptoms of DM show up. First it's thetoenails scraping on the sidewalk, then listing to one side and occasional stumbling and collapse in one rear leg. Most people have never heard of degenerative myelopathy, and since there is no medicine or treatment for it, it's not on radar screens of many family vets. Once torn ACL's, disc disease and spinal tumors are ruled out, the challenging diagnosis of degenerative myelopathy forces pet guardians to come to terms with the fact that their dog has the canine version of ALS, also known as Lou Gehrig's disease, an incurable neurologic disease. There is now a DNA test for this disease given at the University of Missouri Vet School - visit www.caninegeneticdiseases.net
When we first became aware of DM, we were as devastated as our clients were. But the indomitable spirit of the dogs themselves moved us past tragedy to triumph. If these dogs weren't feeling sorry for themselves, then we need not pity them - we need to help them have the best quality of life as possible for as long as possible. We have worked with DM support groups to come up with a complete line of carts that address the progression of the disease as it moves forward into the front legs.
Redford, pictured here, has a neutral balanced cart that is weightless on his shoulders and totally supports and stabilizes his rear. As long he's able, he can use his rear legs to help propel himself. As he loses function in his legs, they can be held up in rolling stirrups. If the disease progresses into his forelimbs, a counterbalance upgrade will take more weight off his front legs and give him several more months of life and mobility. You can read more about DM on our dedicated page on this website and watch the videos featured there.
Posted: to Eddie's News on Wed, Jan 5, 2011
Updated: Wed, Jan 5, 2011