Welcome Finch! The tiny chihuahua with a broken back
How a tiny chihuahua from Tennessee became our new mascot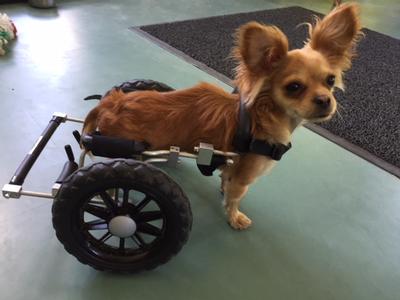 .
When PAWS-New England's foster brought a tiny 3.9 lb chihuahua with a broken back here to be fitted for a wheelchair, we had no idea that he would bring so much joy to Eddie's Wheels. We were all still heartbroken over the death of Scout, and not really ready to move on..... but then Hoyt, as he was known then, zoomed into our lives.
Finding an adoptive home for an incontinent paralyzed dog is always a challenge for rescue groups. It's hard to find people able and willing to care for a disabled dog, especially those in diapers. The entire crew at Eddie's Wheels fell in love with this bundle of joyful energy immediately. It didn't take much to convince us or the rescue that we were a perfect match.
We renamed him Finch, in honor of Scout, and because he was so tiny and has ears as big as wings. We picked him up when his cart was ready at his rehab vet's (Animotion in Stoughton, MA) and got the lowdown on his disability. He has a fractured spine and is deep pain negative, but has reflexes and rehab potential. At the weight he was then, he also had instability in his elbows and shoulders; but his vet advised us to just work on putting some weight and muscle on him which was easily accomplished by letting him run around chasing his toys in his wheelchair. We made him a neutral balanced cart so that he would not have to deal with an additional weight on his forelimbs, and put stirrups on his cart so as not to risk abrading his toes if he dragged them on pavement.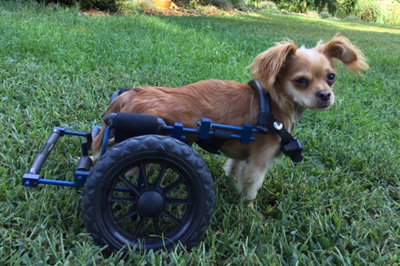 We changed his diet, as he was having loose stools and wearing diapers full-time, causing a bit of diaper rash around his anus. A dehydrated raw diet (Stewart's Naturals) firmed up his stools and got him out of a full diaper. He also gained weight and is now at his ideal weight of 5.5 lbs.
The most dramatic change has been how much longer Finch became over 2 months of using his wheelchair. As he walks in his cart, he stretches out against the stationary saddle, creating traction for his injured spine and becoming an 1 1/2" longer. Once we saw this, we made him his show cart, anodized blue. Watch Finch having a fit of the zoomies in his wheels!
Attached File:
Posted: to Eddie's News on Tue, Sep 18, 2018
Updated: Mon, Sep 24, 2018